Great Pics Cardy.....I didn't get no where near as many as I wanted but heres a few highlights for me......yours are much more in depth.
I would've got more only I went back to my room after judging and had a protein burn off nap
so I didn't/ couldn't wander around the pit area as much as I wanted this time.
Apparently this Guitar built in 1958 but I didn't get close enough to see what brand it was....kept on going outa tune but jeez he hammered it.....sounded bloody good!!
Edgy& grill-pro Dave chillin' out
I loved this Silver Creek Smoker....My God it's huge and has a built in kitchen on the other side.....bloody awesome!!
Golly & Hogsy had 3 Weber Ranch Kettles set up......man I want one!!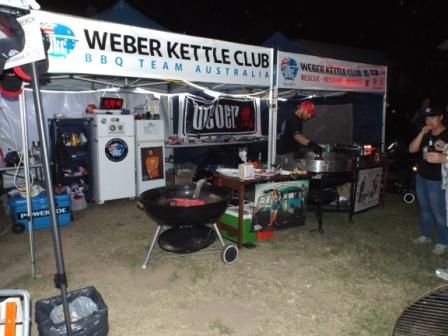 All those pretty little kettles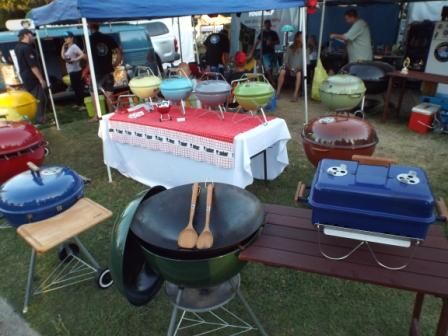 The Meat Sweat took out reserve Champion....I didn't get to take a pic of the Champs.....theres also a 22 inch WSM chucked in with that prize lot too..
Here's Golly with his Chef Choice award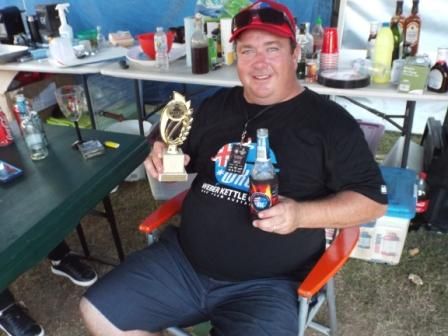 Last but not Least....the final score sheet.....there were a few disapointments this time round but there's always next year.
Well...there you have it....a small round up by a few you know.....I must admit I'm very much liking those kettles...once a fan boi...always a fan boi 8)
Cheers
Davo
_________________
If I'd knew I was gonna live this long, I'd have taken better care of myself-(Waylon Jennings)