I first tasted brisket only back in January. It blew my mind. I finally got to cook one last week, I don't cook a lot of read meat these days because my girl friend has to avoid it due to the vitamin K content.
I thought I'd share my photos with you guys and explain what happened along the way...
I was at the Vic Market last Saturday morning doing the shopping. My plan was to head to Nino and Joes in Brunswick to check out their brisket after the market, my regular butcher at the market said a couple of weeks ago that he wouldn't be selling brisket until the season started to change a bit. He sells pretty good meat so I usually walk past even when I'm not shopping for it, just to see what he has. He had some Cape Grim brisket. We had a chat and he doesn't remember the conversation we had. I picked one up and headed straight home.
Here she is in all her glory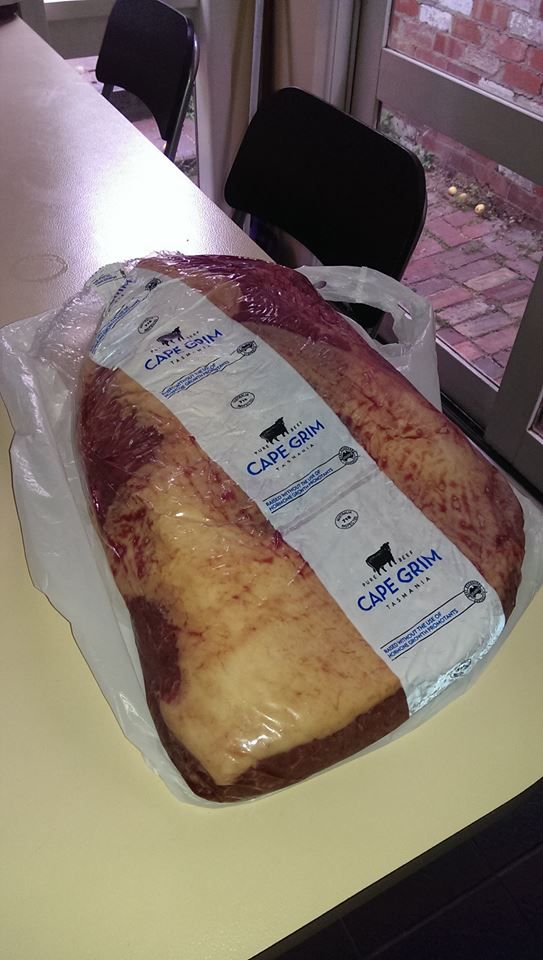 I've watched Aaron Franklins videos a number of times and wanted to replicate his (splitting the point from the flat first). My original plan was to get up around 5 am Monday morning and start cooking it to have it ready for dinner. Come 11:30 pm on Sunday night and I'm laying in bed tossing and turning and trying not to think about beef brisket. I couldn't sleep. I was like a child on Xmas eve, my excitement was too overpowering. So i got up and started a fire.
I'm still shooting from the hip for a lot of this stuff. I may be a scientist, but I'm not very thorough when learning how to cook. I'd seen plenty of stuff on YouTube about brisket going for 9 hours and others for 16 hours. I had know idea how long it would take. I thought I better just get it on!
It started off at 4.6 kg. I didn't weigh the trimmed material, but I'd guess it was just under 1 kg.
Here's the flat: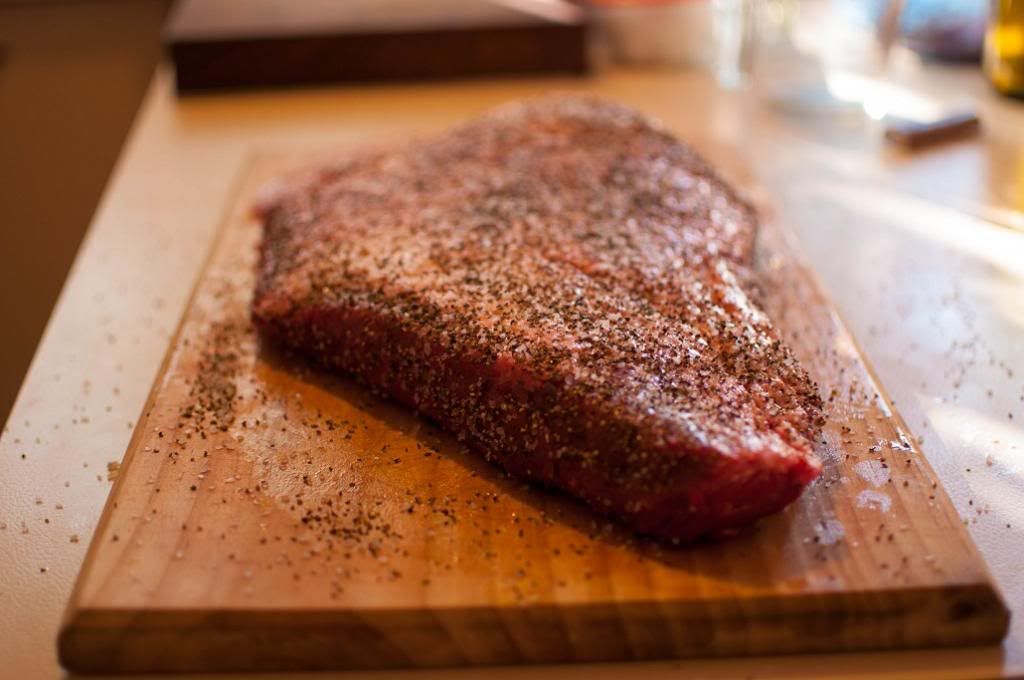 Here's the point: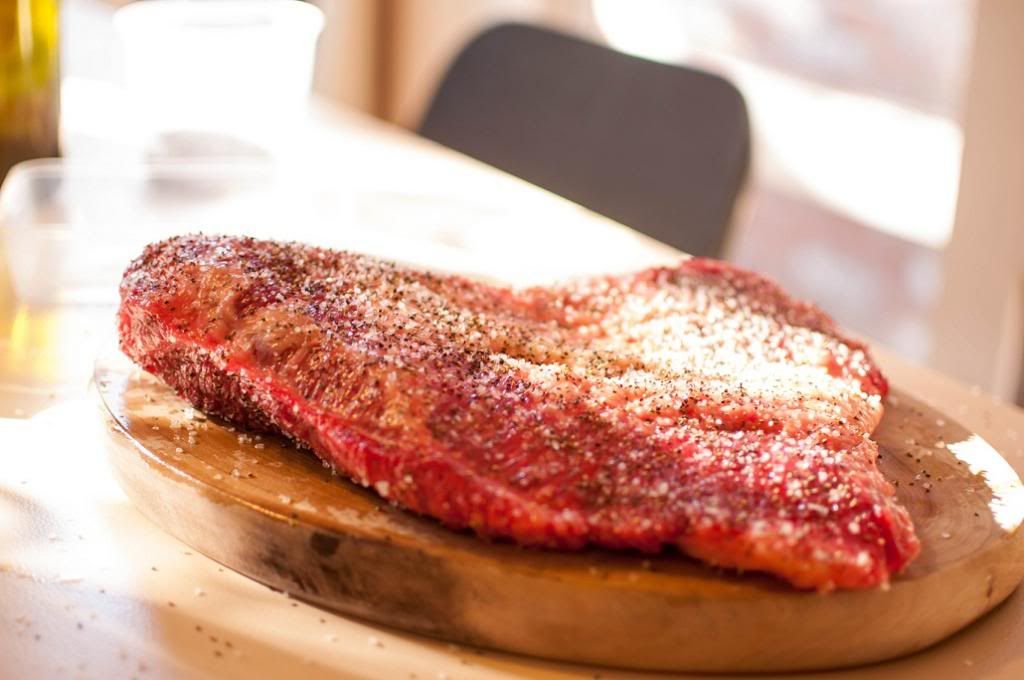 There was too much meat for the Weber so I used my rib rack to create a double decker. The meat went on at 12:30 am Monday morning.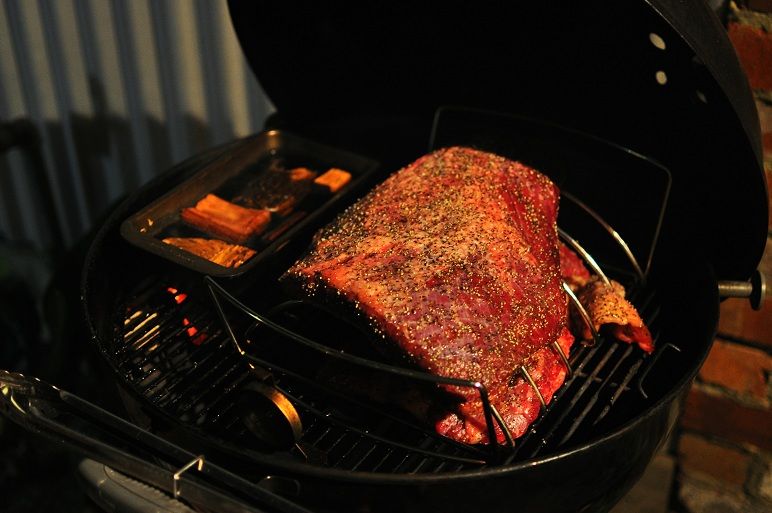 I nursed it until 3:00 am. When I went to bed, the Weber was at 280 F.
I slept until 6:30 am and got up to check it: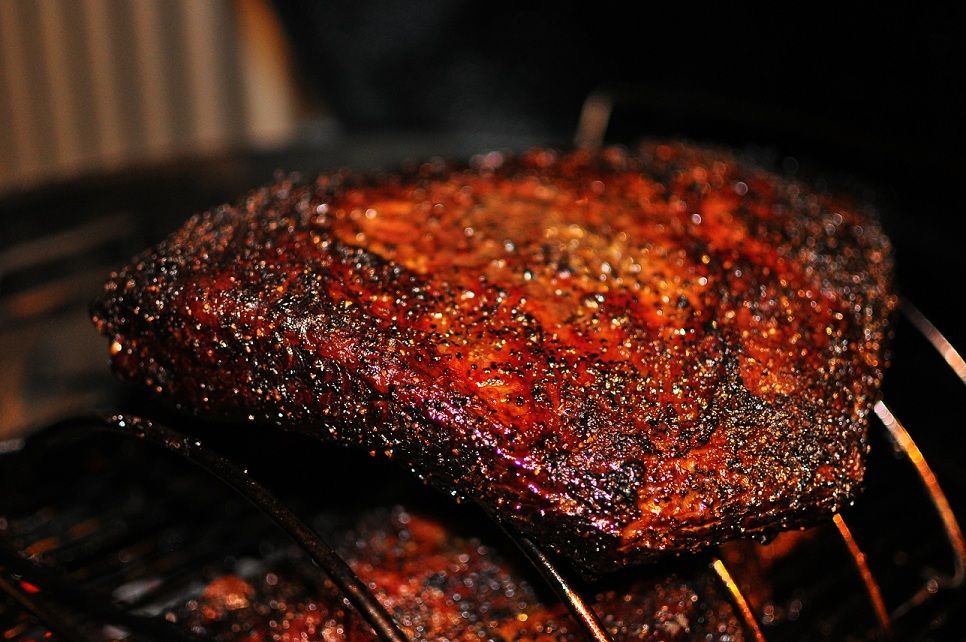 I was pretty happy with how it was looking:
The Weber was at 270 F and the meat was at 180 F.
I went back to bed for a couple of hours. When I got up at 10:15 am, I was a walking Zombie. Did I mention the night before I'd been on a bender in Ballarat? I'm sure I mentioned it... When I got to the Weber and saw that the meat thermometer was reading 212 F, my heart sank. It was over cooked.
It had been on for just under 10 hours. Temperature seemed to be holding pretty good in the Weber. At 10:15 am it was between 250 F and 280 F but I can't remember what.
I pulled open the lid. It didn't look as bad as I first thought, although I think it looks worse in the photo than real life: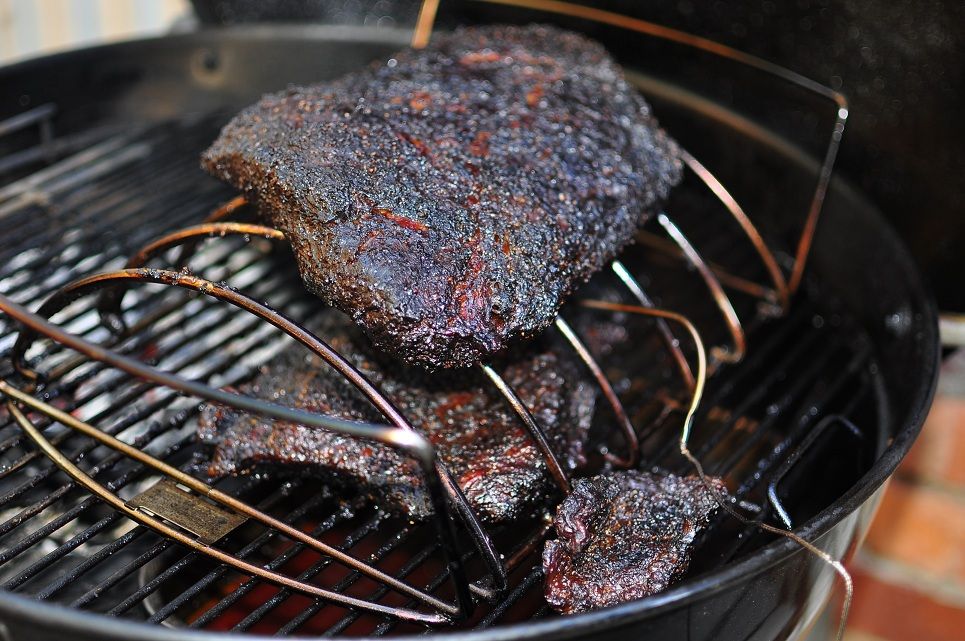 I wrapped the flat in foil and a towel and got to work on the burnt ends: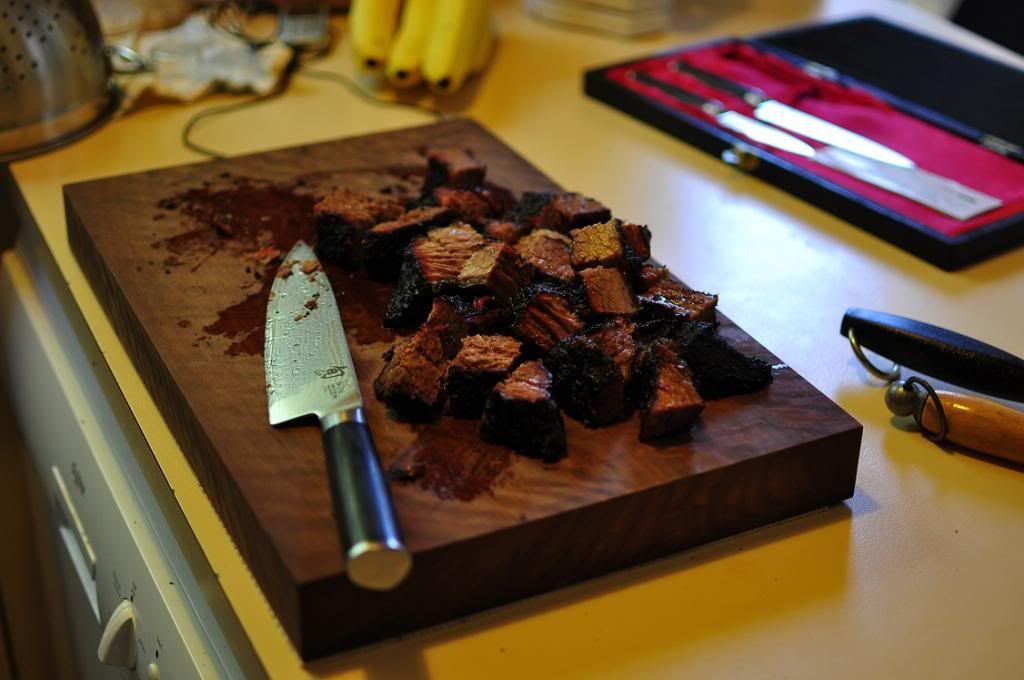 And again: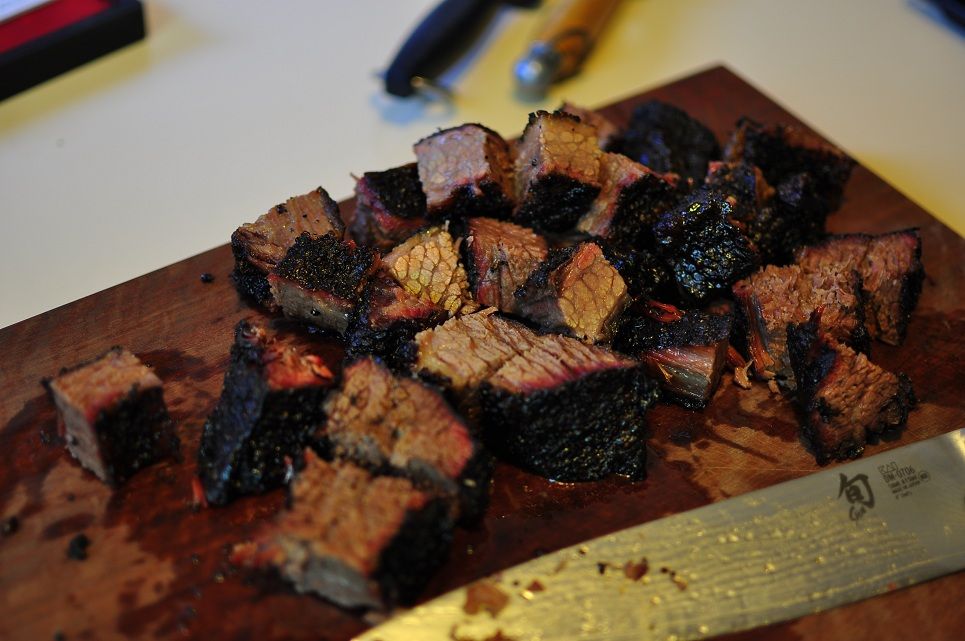 One more for good measure: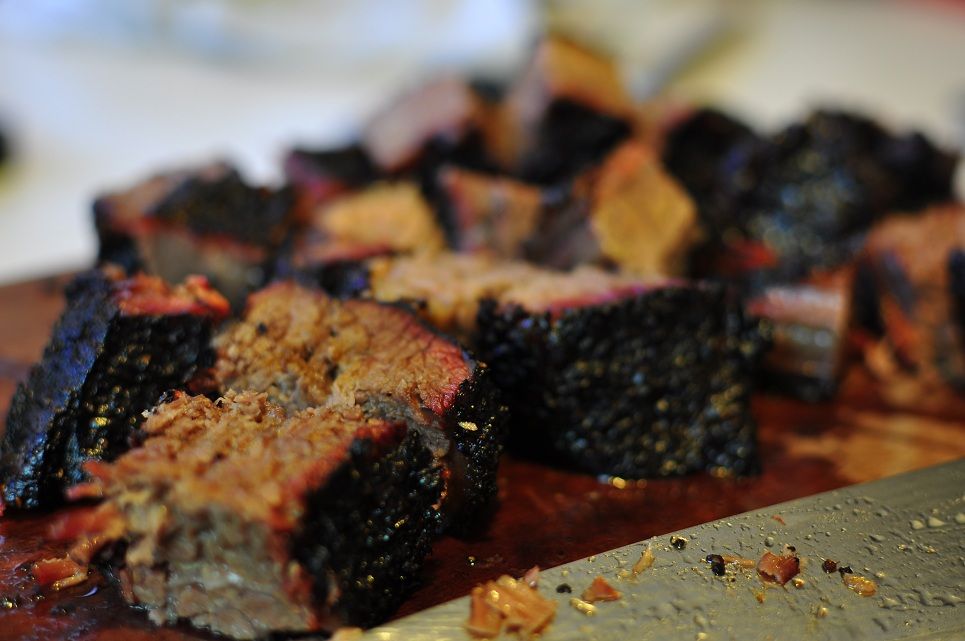 I was flying especially blind with the burnt ends. I chopped them into cubes. Added some juice from the drip tray and some sweet and smokey bbq sauce (from Steven Reichlen's book). I put them back in the Weber for 2 hours. Then called everyone and said they had to be at my place for lunch instead of dinner.
I was carrying over a hangover from the day before. I had limited and interrupted sleep. It was very warm at my place. I hadn't showered. I was in my underpants. I figured I should prep some salad for everyone.
Two hours later I was still in my underpants with sweat pouring off me and people started to roll in. Somebody threw coffee at me and suddenly life wasn't so bad.
I pulled the burnt ends off and sliced up the flat:
I tried to stick to Aaron Franklin's 1/4" rule:
No smoke ring and a little dry. But bloody tasty!
And the little jolly burnt ends after their second trip to the inferno:
All in all I was still very satisfied. The flat was a bit dry but it had enough moisture to not bother anyone. It help up under the pull-test, which suprised me. I also wasn't overly impressed with the burnt ends at first. The second day they rocked my world.
A wild weekend of booze, meat and smoke. I will do this again sometime soon.
Thanks for listening.