Just thought id give you guys a look at the results and really judge for yourselves. The term "its done when its done" gets thrown around alot but now i know why. For the guys burning stick exclusively, i can understand why you wrap. But for us novice folk using heatbeads and wood on the side theirs no benifit in flavor. I was forced to cook some "butts" hot and fast due to a number of reasons. New pit, people coming over and bad fire management. I really had no choice but to cook hot 'n' fast
Here are the results though. Given the ones in foil have been "resting" in an esky for about 10 hours, these pictures are the day after so ymmv. Also i had only one maverick et-732 monitoring the pit temp and meat closest to the firebox. So i cant give you temps but i can guarantee the "soft like buttah" test was done.
Hot 'n' Fast - Pit was at 300-350f, foiled around the 5 hour mark, and rested in the esky to carry over/keep warm till the guest arrived.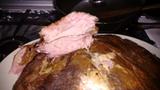 Low 'n' Slow - Temps from 250-300f, no foil and cook till soft like "buttah".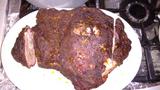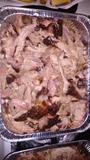 Moisture wise the HnF one wins hands down, but that's not to say the LnS wasn't moist. Still very moist but if i had to pick a winner it would be the HnF one. Bark ... yeah we know which one. Taste is the deciding factor. The HnF one had more of a pork taste to it while the LnS ... seemed like the smoke penetrated deep into the meat, Theirs a world of difference between the two, i don't know if you can see from the pictures. But the LnS after pulling looked a shade darker. If we didn't have people coming over i would have ordered pizza and sit through all 5 butts stalling. But tbh i dont think their were any bbq connoisseurs last night